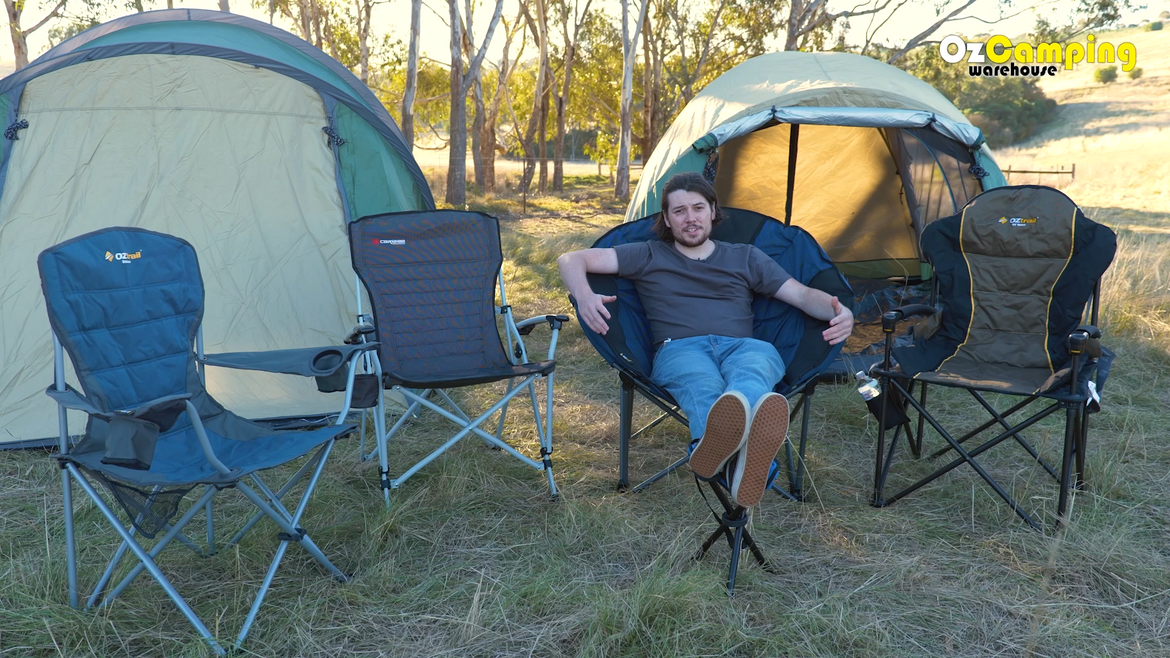 Finding the Perfect Chair for Getting Out There
It really can make or break your time in the bush you know.
If you're on the hunt for the perfect camping chair - we're pleased to inform you that you've finally come to the right place. We recently made a video taking a look at some of the very best camp chairs on the market, check it out below or read on to learn more!
OzTrail Deluxe Jumbo Arm Chair
If a no-nonsense, reliable and comfortable camp chair is your cup of tea, may we highly recommend the Deluxe Jumbo from OzTrail. 

Lightweight at only 3.4kg, the Deluxe Jumbo will keep you comfy whether you're headed to the beach for the day, the bush for the weekend or just about anywhere else. It's strong, high-tensile steel frame is rated up to 150kg, while the durable polyester fabric ensures rips and tears ain't nothin' to worry about.
A great chair for campers on a budget or working with a weight limit, be sure to check this one out.
Caribee Crossover Folding Camp Chair
One word to describe the Crossover from Caribee? Stable.
The aluminium frame design is super strong while maintaining a light weight, while the crossover design allows for extra strength and durability. A fully padded backrest gives that extra level of comfort, with an upright seating position that strays away from that typical slouchy camp chair design. 
A cup holder on the side and gear pocket on the back rounds this chair out as a perfect midrange option for those looking for that little bit more comfort.
OzTrail RV Sport Chair
They really thought of everything here!
As far as a typical camp chair design goes, the RV Sport Chair by OzTrail is guaranteed to keep you comfortable in the bush. Thicker padding and adjustable lumbar support means guaranteed comfort, with padded insets designed to cushion your legs and add extra warmth. 
The high-tensile 19mm steel frame with cross over bracing means the RV Sport Chair is rated up to 200kg, giving you even better durability and toughness. 
Perhaps the best part though is the padded headrest that will keep you comfortable whether you're sitting around the fire or looking up at the stars. It even has a built-in pocket that you can store gear in or (life hack alert!) stuff a pillow/extra padding in for even more comfort!
OzTrail Moon Chair Jumbo
Speaking of comfort...
The Moon Chair Jumbo from OzTrail is the epitome of a comfy night under the stars. The extra-padded, round design means you just sink right into this one. Chuck a blanket over the top and you'll never want to get out. In fact, sitting by the fire at night in this chair will almost guarantee a response of "I think I might just sleep here!"
Padded foam on the head and armrests give that extra cushion where it's needed, while the unique design allows you to fold it up in seconds. It's one of the larger and heavier options on the market, but if comfort is what matters to you, there's no better option that the Moon Chair Jumbo.
Outbound Bivouac Stool
For all those hikers and swaggies, look no further than the Outbound Bivouac Stool.
The only complicated thing about this chair is the word "Bivouac", the rest is oh-so-simple and easy. The 3-leg stool design folds up almost flat, perfect for chucking in the backpack, on the motorbike or in a small car. It's so small you can even chuck it in your swag at night to keep it out of the elements and you won't notice it at all!
So there's just five of our favourite camp chairs available at OzCamping Warehouse, but there are even more great options out there! Head to our Camping Chairs section to find all these great products and so much more!